Scan with any BHIM UPI App
Use the UPI ID: legal79822@barodampay
Pay with Credit or Debit Card
Bank of Baroda
Account No: 73120200001802
IFSC Code: BARB0DBNAWA
Please share the payment screenshot on 9911199708
Right to Education is one of the fundamental rights of every Indian citizen. Legal Flag believes that money should not be a road block for our student who are passionate to become law officer. We extend scholarships and financial assistance to our students.
A number of scholarships are offered to students depending on the many factor. Legal Flag grants full to partial waiver on tuition fees payable by the student.

Sibling Scholarship
Fee waiver of 5% for student whose sibling is pursuing education at the Legal Flag. Relation proof required.

SC/ST/EWS Scholarship
Fee waiver for student belong to EWS/SC/ST. Documents required.

Merit Scholarships
Students are eligible for upto 100% merit Scholarship based on their selection.
Naval / Army / Air force /Coastal Guard/ CRPF
5% Scholarship for Children of Military/Para Military/Govt. Security Forces, Serving & Retd. Defence Personnel.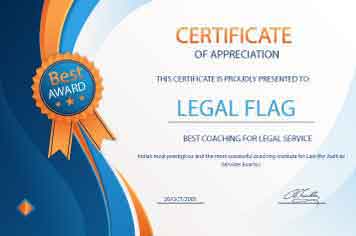 Best Private Law Coaching in India