Best Judiciary Coaching for Haryana PCS J Exam.
Best Online Coaching for Judiciary (PCS J) and Law officer exams in Haryana. Already selected many students in different exams.

Online Classes
Best technology and Experienced faculty.

Study Material
We provide latest Judgments, Notes, Previous Papers.

24/7 Expert Support
24/7 doubt clearing sessions with highly experienced faculty.
Register Now
Limited Time Offer.
Online judiciary coaching at affordable fee.
Our experianced faculty will teach you all the subjects to crack Haryana Judiciary exam 2023.
Complete Judiciary Coaching for Haryana.
We cover all major topics to crack the Preliminary and Mains of Haryana Judiciary Service.
Complete Judiciary Coaching for Haryana Preliminary Examination
Code of Civil Procedure
Contract Act
Partnership Act
Sales of Goods Act
Specific Relief Act
Indian Evidence Act
Punjab Courts Act*
HARYANA URBAN(control of rent & eviction) ACT,1973*
Hindu Law
Mohammedan Law
Customary law of Haryana and Punjab*
Law of Registration
Limitation Act
Indian Penal Code
Criminal Procedure Code
Indian Evidence Act
General Knowledge and Aptitude
General Studies
Complete Judiciary Coaching for Haryana Mains Examination
Paper 1 – Civil Law I
Code of Civil Procedure
Contract Act
Partnership Act
Sales of Goods Act
Specific Relief Act
Indian Evidence Act
Punjab Courts Act*
HARYANA URBAN(control of rent & eviction) ACT,1973*
Paper 2 – Civil Law II
Hindu Law
Mohammedan Law
Customary law of Haryana and Punjab*
Law of Registration
Limitation Act
Paper 3 – Criminal Law
Indian Penal Code
Criminal Procedure Code
Indian Evidence Act
Paper 4 – English
Essay 100 Marks
Precis Writing – 25 Marks
Comprehension – 25 Marks
Corrections – 25 Marks
Words & Phrases – 25 Marks
Paper 5 – Hindi* – 100 Marks
Standard of Hindi paper shall be that of matriculation examination of Haryana Board.
Essay, Idioms, and Corrections
Hindi Passage explanation in the form of poetry or prose in the same language
Passage Translation (Hindi to English)
Free Demo
Free Demo Class for Haryana Exam.
Right to Education is one of the fundamental rights of every Indian citizen. Legal Flag believes that money should not be a road block for our student who are passionate to become law officer. We extend scholarships and financial assistance to our students.
A number of scholarships are offered to students depending on the many factor. Legal Flag grants full to partial waiver on tuition fees payable by the student.

Sibling Scholarship
Fee waiver of 5% for student whose sibling is pursuing education at the Legal Flag. Relation proof required.

SC/ST/EWS Scholarship
Fee waiver of 5% for student belong to EWS/SC/ST. Documents required.

Merit Scholarships
Students are eligible for upto 100% merit Scholarship based on their selection.
Naval / Army / Air force /Coastal Guard/ CRPF
5% Scholarship for Children of Military/Para Military/Govt. Security Forces, Serving & Retd. Defence Personnel.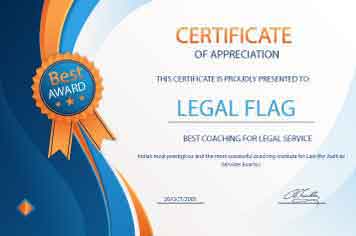 Best Private Law Coaching in India
Let's Build Something Together
Legal Flag sets the benchmarks of the Indian law education with a system that matches the best of practices, theories, resources and standards for all competitive exams.
What documents are required for the admision.
Only a copy or scanned copy of class 12th mark-sheet and a recent color passport size photograph is required to be submitted.
I have doubts, where I can ask my questions ?
Students can ask the questions on our website. Our faculity will answer each question.
My friend is also intrested to join Legal Flag
For every admission, you can earn Rs. 2500/-. The amount will be transfered into your account.
Can I earn mony without joining Legal Flag
Yes, you can earn money on every admission refereed by you.
What are the grounds on which admission can be rejected?
Sharing your Login ID with others.
Downloading content without permission.
Or any un-authorized use.
Recently took online classes for Law Officer, I am very much satisfied with the classes. I have also tried some other institute, but the Legal Flag course content and study material is excellent. The entire module is online without ever going to the office for any doubt, the faculty is always available to clear all the doubts, we can also check the previously asked questions. The whole process is very smooth and do highly recommend Legal Flag for Law studies.
Suraj Singh

I did my law degree in 2020 and preparing for judiciary exam for last 2 years. After searching a lot, finally one of friend told me about Legal Flag. After comparing fee and the scholarship offer, I decided to enroll with them. Now I am very much confident the I can easily crack exam of any state. My English is not so good but not I can easily write judgments, answers in very detailed manner. Thanks a lot and keep supporting people like us. I must mention that their services are at affordable prices too.
Garima

I am from Haryana practising in Saket Court – Delhi since last 5 years, I never thought about the Govt. exam, but due to Corona Pandemic my practice is totally finished, then my father suggest me about Legal Flag. His friend's son was selected in IBPS law officer and also took classes from Legal Flag. The team helped me creating amazing explanation to each details against questions asked in the exam. I personally believed that their teaching method is so strong that every student can easily understand.
Vikas

I did my law graduation and worked in life insurance. To crack any exam all questions, have to be explained well in exam so with one of my friend's reference I have opted for Legal Flag. The classes are very informative and save my too much of time, that helped me for the revision. Now I am very much confident that I can easily pass the PT and Mains of any state.
Raman

LEGAL FLAG – Best Judiciary Coaching in Haryana
Legal Flag is one of the leading institutes for judicial coaching for the students from Haryana. We encourage students to learn about the importance of the judiciary and judges in the country. Our Teaching Faculty of Judiciary Coaching is one of the most respected faculties of Judicial Coaching.
At Legal Flag, we use innovative methods and techniques to teach students to enhance their knowledge. Our goal is to provide comprehensive development and concept-based lectures that will help them demonstrate better performance in the judiciary and other legal entrance exams.
We have specialized study material for students. This study material has been developed through extensive and in-depth research. We have made the language simple and easy to understand. It helps students to learn better and gain proper knowledge, which helps them to excel in the judicial entrance exam.
We know about the competition on the field and we know how tough it is to succeed in the exam and get motivated for it. We help students in this dilemma. The expert faculty in coaching our judiciary motivates them to set a goal and achieve it at any cost.
We also provide students with online test series and bullet notes. With the help of this, they can access the study material anytime, anywhere on their laptop or mobile phone. Legal Flag bursts into our focus on paperless study.
"Be the master of your destiny." Choose your path and follow your dreams with Legal Flag and build a successful future. Plan your first step towards your goal with us and make your dream come true. "Give wings to your dreams with Legal Flag. We are at the forefront of leading online judicial coaching in Haryana. We have guided thousands of students to make their dreams come true.
Legal Flag offers preparatory courses in Judiciary, CLAT, LLB, IAS Mains, LLB subjects, APO / APP (Hindi & English) to young candidates. With the changing trends and high competition in these competitive entrance exams, it has become difficult for students to keep themselves updated and prepared.
Here at Legal Flag, students are trained and trained to lead their way and survive even in tough competition. Legal Flag pays equal attention to the theoretical and practical aspects of these competitive entrance exams. We prepare students in every subject to face all the challenges of tough competitive exams. Our expert faculty have the latest communication tools and techniques needed to excel in the judicial entrance exams.
Legal Flag is one of the best judiciary coaching institutes in Haryana. Over the years, we have built a brand dedicated to providing quality judicial exam preparation and training to students. Our primary policy is to put students first so that student interest is our priority. Students, working for their welfare.
A team of successful professionals in the same field provides personal attention to students to overcome weaknesses. We help keep our students accountable for their success. Our methods and techniques continue to evolve and improve over time. Legal Flag is the best coaching centre for the judiciary and other legal entrance exams.
Judiciary CLAT, LLB, IAS Mains, LLB subjects, APO / APP in the field of education, Legal Flag is recognized as one of the best judicial institutions in India. We provide a platform for students to develop a respectable career in the field of law. Self-awareness is something we teach our students. Not everyone is the same in terms of performance, mental ability, and enthusiasm for success. We understand that. Therefore, we have created an environment that focuses on improving individuals. We believe we need to develop self-awareness in our students so that they can truly know the right path to career and future success.
Online Judiciary Coaching in Haryana
Legal Flag is one of the most innovative online judiciary coaching classes. We are very proud to announce our online coaching for Legal Services. Legal Flag understands the need of the hour. Students stay at home for unavoidable reasons. Due to ongoing conditions, our students are unable to attend offline class programs for legal services. And so on. We decided to take our law classes online.
It has brought us closer to more students who want to achieve their dreams of becoming respected judicial officers. It also helped our existing students, who now have access to our online law coaching classes from their comfort and safety zone.
Our online coaching for the judiciary covers various areas for improving the learning of our legal enthusiasts.
Students have the facility to view the recorded classes at their convenience. We provide online law classes with updated notes. It helps students in revision. We are also a leader in the online test series in the best Judiciary Coaching Industry.
Through competition and the sophisticated online test series, we have created a revolution in the industry. For judicial coaching, students can also write these exams through the Android apps.
We see to it that our students learn from the best. So we hired highly qualified teachers and with their help prepared the best study materials. Our online coaching for the judiciary is interactive and our application interface is user friendly.