Best Coaching for Judiciary and Law officer exams. Already selected more than +5000 students in different exams.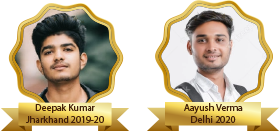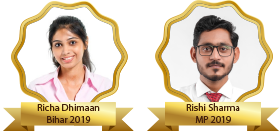 Online Classes
Best technology and Experienced faculty.

Study Material
We provide latest Judgments, Notes, Previous Papers.

24/7 Expert Support
24/7 doubt clearing sessions with highly experienced faculty.
How Can We Help?
Please get in touch and our expert support team will answer all your questions.
Best judiciary coaching at affordable fee.
We've Been Shaping Future For Over 9 Years
Legal Flag has a history of academic excellence and ranks among the India's top private law coaching institute. Known for world-class research, global community, and industry connect, our reputation attracts the best and bravest of thinkers who constantly cross boundaries, creating a home for leaders of tomorrow.
Call For a Quote:
+91 – 9911199708
Lecture 5
– CPC Section 6
Save in so far as is otherwise expressly provided, nothing herein contained shall operate to give any Court jurisdiction over suits the amount or value of the subject-matter of which exceeds the pecuniary limits (if any) of its ordinary jurisdiction.
Lecture 14 – Constructive Res Judicata – Section 11.
Any matter which might and ought to have been made ground of defence or attack in such former suit shall be deemed to have been a matter directly and substantially in issue in such suit.
Lecture 59 – In summary suit the defendant cannot claim as a matter of right his defence without the leave of the Court.
Complete 2 Years Judiciary Coaching.
Civil Procedure Code (CPC)
Limitation
Specific Relief Act (SRA)
Law of Contract
Indian Penal Code (IPC)
Code of Criminal Procedure (CrPC)
Indian Evidence Act
Constitutional Law
Administrative Law & Indian Polity
Sale of Goods Act
Indian Partnership Act
Transfer of Property
Negotiable Instruments Act
Arbitration Act
Arbitration Act
Registration Act
Law of Tort
Jurisprudence
Judgment Writing
Language
Gk and GS
Our course structure is prepared by the retired judges after understanding the question pattern asked not in the PRE but also in the Main and Interview for every respective state.
Right to Education is one of the fundamental rights of every Indian citizen. Legal Flag believes that money should not be a road block for our student who are passionate to become law officer. We extend scholarships and financial assistance to our students.
A number of scholarships are offered to students depending on the many factor. Legal Flag grants full to partial waiver on tuition fees payable by the student.

Sibling Scholarship
Fee waiver of 5% for student whose sibling is pursuing education at the Legal Flag. Relation proof required.

SC/ST/EWS Scholarship
Fee waiver of 5% for student belong to EWS/SC/ST. Documents required.

Merit Scholarships
Students are eligible for upto 100% merit Scholarship based on their selection.
Naval / Army / Air force /Coastal Guard/ CRPF
5% Scholarship for Children of Military/Para Military/Govt. Security Forces, Serving & Retd. Defence Personnel.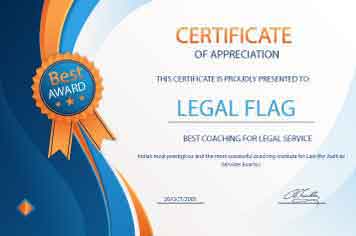 Best Private Law Coaching in India
Let's Build Something Together
Legal Flag sets the benchmarks of the Indian law education with a system that matches the best of practices, theories, resources and standards for all competitive exams.
What documents are required for the admision.
Only a copy or scanned copy of class 12th mark-sheet and a recent color passport size photograph is required to be submitted.
I have doubts, where I can ask my questions ?
Students can ask the questions on our website. Our faculity will answer each question.
My friend is also intrested to join Legal Flag
For every admission, you can earn Rs. 2500/-. The amount will be transfered into your account.
Can I earn mony without joining Legal Flag
Yes, you can earn money on every admission refereed by you.
What are the grounds on which admission can be rejected?
Sharing your Login ID with others.
Downloading content without permission.
Or any un-authorized use.
Recently took online classes for Law Officer, I am very much satisfied with the classes. I have also tried some other institute, but the Legal Flag course content and study material is excellent. The entire module is online without ever going to the office for any doubt, the faculty is always available to clear all the doubts, we can also check the previously asked questions. The whole process is very smooth and do highly recommend Legal Flag for Law studies.
Suraj Singh

I did my law degree in 2020 and preparing for judiciary exam for last 2 years. After searching a lot, finally one of friend told me about Legal Flag. After comparing fee and the scholarship offer, I decided to enroll with them. Now I am very much confident the I can easily crack exam of any state. My English is not so good but not I can easily write judgments, answers in very detailed manner. Thanks a lot and keep supporting people like us. I must mention that their services are at affordable prices too.
Garima

I am from Haryana practising in Saket Court – Delhi since last 5 years, I never thought about the Govt. exam, but due to Corona Pandemic my practice is totally finished, then my father suggest me about Legal Flag. His friend's son was selected in IBPS law officer and also took classes from Legal Flag. The team helped me creating amazing explanation to each details against questions asked in the exam. I personally believed that their teaching method is so strong that every student can easily understand.
Vikas

I did my law graduation and worked in life insurance. To crack any exam all questions, have to be explained well in exam so with one of my friend's reference I have opted for Legal Flag. The classes are very informative and save my too much of time, that helped me for the revision. Now I am very much confident that I can easily pass the PT and Mains of any state.
Raman